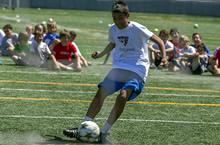 Camp Hours: 9:00 a.m. to 4:00 p.m.
The uOttawa Gee-Gees will offer an intensive week of specialized training for the soccer striker and goalkeeper. The camp is organized to allow the participant to focus on the specific skills needed to achieve and perform at the highest level. The players will learn the art of creating options in the attacking 1/3 and scoring goals. Goalkeepers will be put through an intensive program focusing on the technical and tactical aspect of the game. The striker and goalkeeper programs will run distinctively for the first hour and 30 minutes and will conclude with finishing games or matches designed to train the strikers and goalkeepers, in real situations, on positioning, communication, and decision-making.
Special features:
Specific training tailored for the striker and goalkeeper
Detailed analysis and study of set pieces and their importance to winning games
Daily training and small-sided games on the Gee-Gees Field Turf home field
Low players-to-coach ratio
Food Services: Lunch and a snack are provided daily and are included in the cost of the camp.