Sports Services Launches a $15M Fundraising Campaign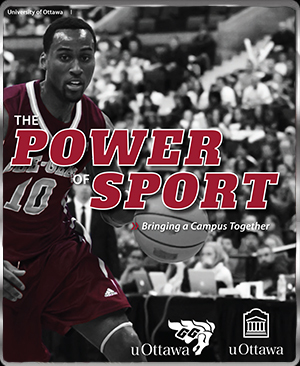 The University of Ottawa and Sports Services are proud to launch a $15M fundraising campaign to support the development of sport and active living within its community.
Sport can transform lives, and give students the extra push they need to meet their academic goals. It builds community. It makes us stronger. This campaign offers alumni, friends and donors the opportunity to give back and make a difference, to contribute to the success of our teams and to the success of our students – today, and for generations to come.
Our top four programs (men's and women's basketball, men's football and women's soccer), which are members of our National Recognition Program due to their sustained success in the country, will split another $2M for their recruitment activities, specialized training and advanced technology they need for that final push to the top. These teams will also be able to hire the professionals they need thanks to the coaching fund established by the University of Ottawa. The school will match every donation to the fund, which is expected to receive$3M.
The remaining varsity programs – men's hockey, women's hockey, women's rugby, swimming, track and field and women's volleyball -- will share $2M in order to continue to develop excellence and meet the criteria to become part of the National Recognition Program. The extra support will go to coaching, training and exhibition travel.
Even early in its launch, the campaign is already receiving a lot of support including that of our honorary co-chairs, the General Manager of the Edmonton Oilers Peter Chiarelli and Vice President and Chief Operating Officer of the Montreal Canadiens Kevin Gilmore.  Gee-Gees' very own Roch Voisine is also lending his support as the Honorary President of the campaign.
To make your mark on this campaign, please contact Steven Drover by e-mail at sdrover@uottawa.ca or by phone at 613-562-5800, ext. 4429.