You can purchase your fitness membership by presenting yourself at either the Sports Complex (801 King Edward Ave – 1st floor) client service desk or the Montpetit Hall (125 University Street) client service desk TODAY!
Membership sales are final. No full or partial refunds will be issued in cases where a member's status changes nor in the case of a new dual status during the membership agreement. The "Member of an Immediate Family of a Member" rate is not applicable to members of the "Student Enrolled at the University of Ottawa" category or to Members of the APTPUO. A photo ID and a proof of residence are required.
Student Membership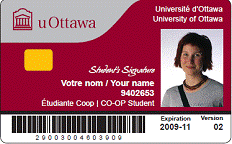 All costs associated with your student membership are included in student incidental fees. In order to take advantage of student-preferred pricing, you must be registered and have paid your incidental fees as part of your tuition (all students pay this fee, except students in the international exchange program, Law students in the Bar process, certain students in Medicine (such as those in internship), students from campuses outside of Ottawa and certain special students. These students must purchase a membership card in order to participate in Sports Services programs).
Your student membership includes access to:
Montpetit Hall Fitness Centre
Health and Lifestyle Centre
Pool
Group Fitness Classes
Squash Courts
Preferential rates on paid programming
NOTE: Student membership does not include free parking at HLC.
Terms of access to sports facilities
Student and employee cards issued by the University of Ottawa as well as those issued by Sports Services are the only recognized official pieces of ID for access to sports facilities. For University of Ottawa students, the U-Pass is not an acceptable replacement to the student card. Sports Services recognizes that, on occasion, a member may forget his or her official ID card required for access to sports facilities. In this case, another photo ID card will be temporarily accepted and the incident will be documented in the member's file. Because of this process, there may be a delay in the member's access to the facility. Sports Services reserves the right to refuse access to anyone who is unable to prove his or her identity with a valid photo ID or anyone repeatedly forgetting his or her official University of Ottawa ID card.