Winter Is Coming: Get the Most Out of Your Experience at uOttawa (Winter Edition)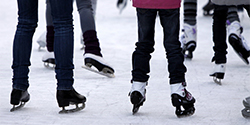 The beautiful sight, we're happy tonight. We're living in a winter wonderland.
The snow is coming, the nights are getting longer and the days are drastically shorter. The Holiday tunes can be found on nearly every radio station in the city and the Rideau Centre is packed with those who are looking for a special gift for that special someone. And as we all know, the best way to spread winter cheer is singing loud for all to hear… that's how it goes, right?
And now that winter is no longer coming, and is fully here, we have some tips, tricks, and special events that will help you get the most out of your winter experience at the University of Ottawa.
1. Panda Game, Part Two?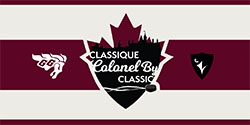 We all loved the experience at the Panda Game, coming together as a school to cheer against those pesky Ravens. TD Place was rocking. It was absolutely electric. Who wouldn't want to experience that feeling of pure nirvana for a second time? Well, don't worry, you do not have to wait until next year's Panda Game.
The Colonel By Classic pits our uOttawa Gee-Gees against the Carleton Ravens in hockey action! This highly anticipated game takes place on November 17th at 7:00 p.m.! Come fill the stands with a sea of garnet and grey as we look to win the Classic in TD Place.
Tickets are still available at the Montpetit Hall Client Services and the Minto Sports Complex Client Services. You do not want to miss this game!
2. Stay Warm with the Tunnel System
Somewhat of a well-kept secret on campus is the tunnel system that runs from building to building. Don't feel like getting dressed in the bulky winter garb to go to your 8:30 class? No problem, the warmest route is your friend. The majority of buildings here on campus are interconnected. Connected buildings are marked by a yellow arrow inside a blue circle, so when in doubt look for these signs.
Let's start the chain at Perez. This building is connected to the Morisset Library via the second floor. Morisset is then connected to the UCU also through the second floor. Morisset is also a popular destination for those that come from the LeBlanc residences, as that is connected to the Fauteux building which in turn connects to Thompson. Fauteux is also home to another walkway with Brooks.
From there, everything connects to the University Centre, which then connects to Montpetit which connects to Lamoureux, which then connects to Vanier, all through the second floor. If that's not enough, Vanier connects to the FSS via a connection on the fourth floor.
But wait there's more!
There is an underground tunnel connecting SITE, Colonel By, and Marion! Starting at SITE, take the passage way on the second level towards Colonel By. Once in CBY, head down to the basement and you will come across the familiar yellow arrow and blue circle pointing down the hallway. This hallway is an underground tunnel that will lead you to Marion Hall.
This mystery is even better than Al Capone's vaults… and you won't be disappointed with this tunnel system.
3. If You Build It, They Will Come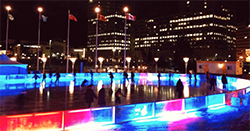 Yes, that is a Field of Dreams quote. And yes, it is applicable here.
Every year, just outside of Ottawa City Hall, the city of Ottawa builds the SENS Rink of Dreams. This refrigerated outdoor skating rink is open from December to March, 8:00 a.m. to 11:00 p.m. This rink is complete with LED lighting, a heated change hut, picnic tables and benches. Bring your own skates, though!
We can guarantee that you will be mesmerized by the serenity of this winter classic. And with the rink only being a nine minute walk from campus, we hope to see you there!
4. Coffee, Tea, Hot Chocolate? We have it all!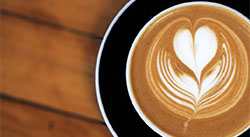 Drinking a nice hot coffee, tea, or a hot chocolate is always nice during these cold winter months. Sometimes we just need to treat ourselves to a nice hot drink to heat up our systems and to get recharged before classes and definitely before exams. Lucky for you, we have an abundance of coffee, tea, and hot chocolate in our Dining Hall!
Enjoy!
5. Register for the Winter Season of Campus Rec Activities
During the Holiday season, we may have grabbed an extra cookie, or an extra piece of pie. It's not the end of the world, but 2018 is our year to get fit and have fun. What better way to get fit than to join one of the many registered activities here on campus!
Registration for the winter season of our activities begins on January 3rd! Come out and enjoy activities such as contemporary dance, taekwondo, or even cross country skiing. We have a large number of different registered classes available, and we hope you come out and try as many as you can.
Come out and have fun!
You can register online at www.geegees.ca, by mail, or in person at the basement in Montpetit Hall and the uOttawa Minto Sports Complex!
6. The 48th Annual Help Santa Toy Parade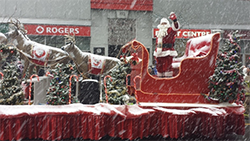 Ho! Ho! Ho!
Santa is coming to Ottawa and he is ready to embark in a parade of awesomeness on November 18th at 11:00 a.m.! Starting at Ottawa City Hall and going to TD Place, this parade will certainly fill your heart with Christmas joy.
Every year since 1969, the Ottawa Professional Fire Fighters' Association has been organizing the Help Santa Toy Parade and collecting toys along the parade route for distribution to the less fortunate children in Ottawa-Carleton.
The parade has evolved into a significant event drawing tens-of-thousands of people who line the Parade route and share their generosity. Participants are entertained to the sights and sounds of floats, bands and clowns produced locally and from around Ontario.
Come out and enjoy the sights and sounds of the Holiday season. You can even donate a toy, so we can make sure everybody has a good Christmas this year.
And there we have it, six of the warmest tips, tricks, and special events that will help you make the most of your experience here at uOttawa during the cold winter months. 
Have any other tips or tricks for the season? We would love to hear them! Tweet them to us at @geegeesrec.