Nutrition during a student's first or even fourth year is easy to overlook. With midterms looming, many students are holing themselves up in study spaces and there seems to be a commonality amongst them: easy food. Potato chips, chocolate, poutine, it is a junk food extravaganza and nutrition is the last thing on their minds. Proper nutrition is easy to ignore when you are worried about cramming more than eating properly, but what most students forget is that carrots and apples are called Brain Food for a reason.
This week I contacted Hélène Lefort, a personal trainer at the uOttawa campus, about some misconceptions about nutrition and some helpful tips to create good Brain Food habits. She illuminated how proper nutrition can help with being alert and studying effectively. How losing weight can be dangerous if done improperly, and gives helpful advice on how to start changing habits gradually.
Personal trainers are available to all students and staff through private and semi-private sessions. Personal trainers can help with more than just fitness, they are guides to a healthy lifestyle overall. For more information, you can go online or in person at Montpetit Hall.
Brittany: Why is proper nutrition important to being fit?
Hélène: Eating properly can help you control your weight, can boost your immune system, can help beat tiredness and fatigue, improve your sleep quality and can also reduce your risk of serious illnesses.
Brittany: Most people believe that to lose weight, you must eat less and workout more. Why is this not necessarily the case?
Hélène: For every physical activity, the body requires energy and the amount depends on the duration and type of activity. It's important that you eat enough before exercising and replenish carbs, fat and protein your body has used up during workouts. If your diet is severely restricted, your body will burn muscle tissue and even organ tissue to create energy.
Brittany: Malnutrition seems to be common in students, what are some ways/habits that help people to learn to curb this trend?
Hélène: Make a habit of going to the grocery store once a week at the same time, same location. That can help enforce a habit, can give you exercise, and will ensure that you don't have to buy too many things to have to carry. Buying frozen vegetables is a great purchase so you don't have to worry about food rotting, or buying fruits like apples and oranges that don't spoil quickly.
One strategy that I have found to be effective to develop a healthy eating habit is to create a list of three foods that we eat on a regular basis...and to find healthy alternatives. An example would be one piece of plain dark chocolate instead of one full milk chocolate bar, or another example would be replacing a bowl of ice cream with a cup of yogurt.
Changing nutrition habits are challenging in many ways and do not happen overnight. Depriving ourselves from the foods we love can negatively impact how we think and feel about food, so it's important that our dietary changes don't change dramatically but gradually over time. Give yourself REALISTIC short term goals and don't be hard on yourself if you weren't able to achieve those immediately. A personal trainer may be helpful at that point to keep you on track.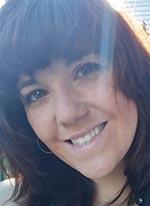 Brittany Maloney is a first year student, studying English and History, at uOttawa. She is originally from a small town in Ontario called Marmora, but after 6 years in Quebec she feels like Montreal is her home. In high school she played varsity Badminton and Rugby, as well as participated in Volleyball and Basketball. She also participated in numerous theatre projects and has a college diploma is Classical Music and previously undertook university studies in Science before settling on English as a major.