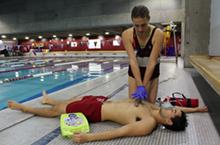 Camp Hours: 9:00 a.m. to 4:00 p.m.
Bronze Medallion Lifesaving Camp
Age: 13+ or has necessary prerequisite
This camp is an action-packed week for youth looking to complete the first step to become a lifeguard. Campers will develop first aid and water rescue skills in a fun team environment. They will improve their physical fitness and swimming efficiency while learning decision making skills to rescue themselves and others.
Pre-requisites:
Minimum 13 years of age by last day of camp or certified in Bronze Star
Ability to swim at least 500m and support oneself in deep water.
Completion of Swimming Lessons or Swimmers' Camp recommended
Special Features:
Materials (provided): Canadian Lifesaving Manual and Bronze Medallion Workbook, CPR Face Shield
Target Audience: Competitive aquatic athletes, leadership campers.
Successful candidates receive:
Bronze Medallion certification
Emergency First Aid with CPR-B/AED certification
All of our camps are offered bilingually.