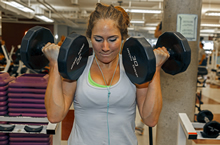 Are you new to the gym scene or looking for some direction in your workouts? Work in a small group led by a certified personal trainer to gain the confidence you need in the University of Ottawa fitness centres. You will be able to feel at ease in both Montpetit and HLC fitness centres with an orientation to the workout settings, as well as coaching for proper techniques in a variety of movements. This course will teach you how to use the weight machines, free weights, and cardio equipment in your training sessions.
This program includes 12 group training sessions with a Certified Personal Trainer. You will also benefit from a personalized Training Log book with pre-set workouts. This course is reserved for women only. 
Fall 2020 programming will be offered to students only. Please view our COVID-19 protocols here.