If you are interested in signing up for our personal training services, simply fill out a personal trainer request form and bring it to the front desk at one of our fitness centres in Montpetit Hall or at the Minto Sports Complex and one of our certified trainers will contact you. You can also obtain a form by contacting personal.training@uottawa.ca or at one of the front desk of our fitness centre. You will first submit the form, then be matched with a trainer and start your consultation.
Cost
To take advantage of the services of a personal trainer, you have to be a Sports Services member.
Packages
Number of sessions
Price - Private
Price - Semi-private
(cost per person)
A
Consultation*
$45
$33
B
1
$51
$39
C
5
$227
$162
D
10
$416
$286
E
20
$779
$519
*Consultations are mandatory for all new personal training clients.
Fitness Programming with Personal Trainers
Our trainers
Annie Titizian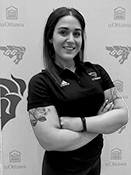 Annie Titizian is currently in her fourth year at the University of Ottawa completing her Honours Bachelor Degree in Social Sciences with a major in Sociology and a minor in Theatre. With a healthy balance of performance arts and physical activity, her athletic background started at an early age. She has been involved in various sports such as baseball and rugby as well as six years of competitive dance. Annie eventually developed an interest in weight training. Since then she has been heavily involved in muscle mass building as well as strength programming by creating and applying different techniques to build strength, maintain flexibility and mobility and overall conditioning. She has tried and tested these methods herself with positive results. Annie focused her own training primarily on bodybuilding for five years. With an interest to incorporate more strength progression in her training as well as work towards new personal goals, she transitioned from bodybuilding to Powerlifting and has been competing in the sport for the past three years. She notably placed first in the Ottawa Open Powerlifting meet in 2015 and second in the Ottawa Summer Showcase in 2016, in both the 84kg and 72kg weight classes. Annie's ability to coach and cue pristine technique in the three compound lifts, being the squat, deadlift and bench press is supported by her ability to create balance in programming by ensuring that a holistic approach is taken. She enjoys the versatility of a healthy lifestyle including a mix of both functional and strength training, using a variety of tools like resistance bands, plyometrics and dynamic movement. She thoroughly enjoys helping clients conquer whatever their personal fitness goals may be! 
Anick St-Denis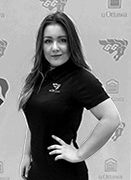 Anick is pursuing a Bachelor's degree in Chemical Engineering at the University of Ottawa. She obtained her personal training certification through the YMCA. She is fluently bilingual which helps her communicate with a large variety of clients to help them achieve their specific goals. She developed a passion for health and fitness from her involvement in competitive sports such as cheerleading and soccer as well as working out in the fitness centre. She strongly believes in the necessity for an active lifestyle, encompassing a balance of all the compulsory components of fitness. She wants to create a training environment that not only motivates but also empowers individuals to constantly challenge themselves in a fun and rewarding way. Together you will transform your quality of life through active participation in regular fitness activities and the integration of guided fitness programs, to make your health goals become a reality. Anick has the motivation to push you beyond your limits and meet your fitness goals.
Arianne Bérubé-Lavoie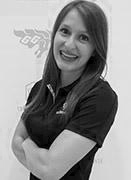 Arianne is bilingual and currently pursuing a Master's degree in Human Kinetics with a concentration in Intervention and Consultation to bridge the gap between physical and mental training. She is a proud student member of the Canadian Sports Psychology Association. Her passion for sport and fitness started at a young age as she competed in a variety of competitive sports. She has obtained her personal training certification through Canadian Society of Exercise Physiology (CSEP) allowing her to work closely with you in the field of fitness. Arianne currently teaches our women's weight training classes and our famous desk jockey boot camp for uOttawa employees. She currently enjoys introducing individuals to physical training in the gym and helping them create habits for a healthy lifestyle. Arianne is eager to take on new endeavours and will always be willing to challenge her clients to reach and surpass their goals! She will keep you motivated, bring enthusiasm to every session, and have fun with all workouts!
Christopher Kocsis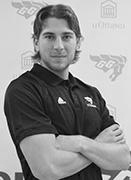 Chris Kocsis is currently in his first year Masters of Human Kinetics specialized in Exercise Physiology. His thesis project has enabled him to work alongside Human Performance and Development research teams at National Defense. Ultimately, Chris' passion is human movement. Continually seeking to understand and develop capacities that make us better movers. Chris enjoys coaching in different settings. When it comes to one on one training, he believes in keeping things simple. If you are looking to lose weight, we must create a negative energy balance by burning more energy than you consume. To do so, Chris will create a specific exercise program to optimize fuel utilization. Furthermore, Chris has over five years of experience working with High-Performance athletes. He is currently the Strength and Conditioning Coach for the uOttawa Men's Basketball team. Chris has learned many lessons from his practical experience with High-Performance populations. Most notably is the importance of variability and creativity when prescribing exercise modalities. The goal of a fitness program is to influence adaptation on multiple training parameters (I.e., strength, speed, balance, change in body composition, coordination, flexibility, etc.). To accomplish the latter, Chris believes in practicing movement you enjoy, working on weaknesses that are disabling /restricting functionality and leaning on proven physiological principles. If you're interested in restoring full ranges of motion and developing callisthenic skills Chris coaches Primal Patterns an instructional fitness course, inspired by a combination of movement-based and gymnastic strength training principles. As a bilingual, passionate coach, he will get you to the optimal version of yourself.
Priya Narine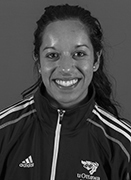 Priya is a Human Kinetics student at the University of Ottawa. She has been a member of the Gee-Gees track and field team and has competed in a number of different running events, ranging from the 60m sprint to the 3km run with the 600m run being her specialty. She is a CanFitPro certified personal trainer as well as an Athletics Canada certified Run, Jump, Throw instructor. She has coached track and field to children aged 6-16 years old for seven years and has also instructed group fitness classes such as Stride to Success at the University for the past two years. She is fluently bilingual in both French and English and enjoys working with individuals of all ages and varying needs. Priya has acquired many technical skills in training as an athlete. She is able to motivate clients to reach their goals and tailor training sessions for individual needs. She is an open and empathetic trainer who is dedicated to helping you reach your fitness goals, whatever they may be!
Bianca Paiement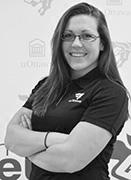 Bianca Paiement is currently finishing her Bachelors of Science with specialization in Human Kinetics at the University of Ottawa. She is fully bilingual and has completed her Personal Trainer Certificate from the Canadian Society of Exercise Physiologist in early 2015. Bianca has a passion for sport and training, with the goal of creating fun and exciting fitness experiences for her clients. She has a history of figure skating and hockey, and is currently pursuing rugby at the interuniversity level. As a member of the Gee-Gees women's rugby team Bianca attended CIS nationals after winning the RSEQ league. She also has a 10 year history of coaching multiple sports, participants ranging from toddlers to adults. From her past, she has developed a very functional training philosophy, which can be used to focus on sport performance just as much as daily health and fitness. She is an outgoing trainer who will think out of the box to help her clients achieve their goals.
Erika Pharand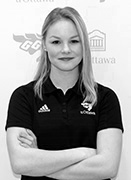 Erika is bilingual and currently pursuing a Bachelor's degree in Nutrition at the University of Ottawa. She acquired her certification of personal training through the YMCA as well as her indoor cycling certification. She is looking to expand her knowledge by eventually, obtaining her weight training group fitness certification. Fitness and wellness has always been a passion and a lifestyle for her. Erika likes working with a variety of clientele and her goal is to pass along her knowledge and love for fitness. Starting from a young age, she always played competitive hockey from AAA to Cegep level. However, she decided to retire to pursue and focus on her dream to be a personal trainer, as well as a nutritionist/dietitian. Erika has the motivation and enthusiasm to help others to embrace consistent fitness practice in their lifestyles, as well as overall healthy habits.
Michael Randazzo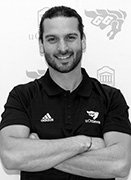 Michael recently received his Masters of Arts in Human Kinetics after finishing his Honours B.A. in Psychology from the University of Ottawa. He is a CanFitPro Personal Training Specialist who found the meaning and joy of activity from a young age. Throughout his life, Michael competed at a high level in the sports of basketball, track and field, and boxing. During his university career, Michael took a leading role as a member of the Varsity Football team, winning the President's Award and receiving the honour of Academic All Canadian which is given to student-athletes who achieve a exceptional academic standing. Michael has successfully recovered from 3 ACL injuries and returned to sport each time. This humbling experience has taught him that hard work and dedication can get you to your desired outcome. It has also given him an in-depth understanding of how to implement exercise to reduce pain and incorporate injury rehabilitation into his programming. His unique background allows him to train clients with a variety of goals including but not limited to: increasing strength and muscle mass, increasing aerobic capacity and weight loss. Michael brings a holistic approach to training and understands health and fitness do not end in the gym. He also enjoys taking his physical fitness outdoors with activities like white water kayaking, as well as cross-country skiing in the colder months. Michael is the total trainer package and brings an upbeat personality to each session.
Taylor Timmermans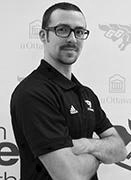 Taylor is currently pursuing a bachelor's of Commerce and is a certified personal trainer. With his passion for fitness, Taylor has made it his goal to make the gym a more welcoming environment for all. A competitive swimmer at a young age, Taylor has again experienced both sides of the training world: from swimmer to swim instructor, from gym-goer to Certified Personal Trainer. From his own training experiences, Taylor is comfortable working with a variety of clients. From beginner clients learning the basics to intermediate clients improving their strength, size, or aerobic capacity, Taylor is confident that he can help clients achieve their goals. Constantly researching better training methods, he hopes to use his experiences at the University of Ottawa to further his career in the fitness world.