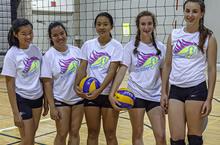 Camp Hours: 9:00 a.m. to 4:00 p.m.
The Gee-Gees "All Girls" Volleyball Camps provide a fantastic learning opportunity for all participants. Our camps focus on skill development and teaching entry-level tactics of the game in an athlete-centered atmosphere.  Our varsity women's volleyball players coach participants in the mechanics of all basic skills and incorporate these skills into game-speed competition and drills. The Gee-Gees girls volleyball camps are ideal for female athletes at a beginner to intermediate skill levels. Each weeklong camp focuses on creating a positive learning environment for athletes looking to broaden their volleyball knowledge, learn new skills, prepare for school volleyball tryouts, and have fun as part of a team during tournament day!  
Taught by past and present Gee-Gees women's volleyball players and coaches, these camps provide enthusiastic instruction and guidance to all athletes, along with a full day of beach volleyball instruction and play at Mooney's Bay. Each week includes daily recreational swim times at Montpetit pool, and Friday afternoon is tournament time at volleyball camp; spectators are welcome!
Camp is designed to coach players who love the game of volleyball & want to improve their skills and knowledge.
Camp is reserved for players who do not have previous 'club team' experience but may or may not have played school & recreational volleyball.
Camp is a great choice for athletes from ages 10 to 14
Participants are grouped in consideration of age and skill level
Beach Volleyball day is Wednesday at Mooney's Bay Beach
Food Services: Daily lunches are provided and are included in the cost of the camp.