If you are interested in signing up for our personal training services, simply fill out a personal trainer request form at the front desk at one of our fitness centres in Montpetit Hall or at the Minto Sports Complex and one of our certified trainers will contact you. You can also obtain a form by contacting personal.training@uottawa.ca.You will first submit the form, then be matched with a trainer and start your consultation.
---
Cost
To take advantage of the services of a personal trainer, you have to be a Sports Services member.
Packages
Number of sessions
Price - Private
Price - Semi-private
(cost per person)
A
Consultation*
$38.00 + HST
$28.00 + HST
B
1
$43.00 + HST
$33.00 + HST
C
5
$191.00 + HST
$137.00 + HST
D
10
$350.00 + HST
$241.00 + HST
E
20
$656.00 + HST
$437.00 + HST
*Consultations are mandatory for all new personal training clients.
Fitness Programming with Personal Trainers
Our trainers
Arianne Bérubé-Lavoie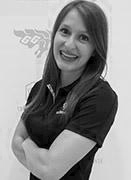 Arianne is bilingual and currently pursuing a Bachelor's degree in Human Kinetics at the University of Ottawa. She obtained a certification through Canadian Society of Exercise Physiology as a Certified Personal Trainer (CSEP-CPT) in order to get hands on practice working with clients in a fitness setting. Her passion for sport and fitness started at a young age as she played a variety of competitive sports. She swam competitively for 8 years, followed by obtaining her instructor's certification as well as becoming a lifeguard. She currently enjoys introducing individuals to physical training in a gym setting and helping them to create habits for a healthy lifestyle. Arianne is always eager to take on new endeavours and will always be willing to challenge her clients to reach and surpass their goals! She will keep you motivated and bring enthusiasm to every session. The most important thing for her is that her clients stay positive and have fun with their workouts!
Blake Gareau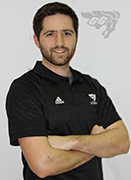 Blake is an Occupational/Physiotherapist Assistant who has enjoyed working three years in the hospital setting and is now pursuing a degree at the University of Ottawa in Human Kinetics. As a Canfitpro Certified Personal Training Specialist, Blake finds great reward in assisting others in their pursuit to health and happiness. With over six years training experience in enhancing performance for daily activities and athletic performance, Blake is passionate about helping anyone throughout their fitness journey in reaching their goals. Whether it is weight loss, strength and conditioning, or just for general wellbeing, Blake looks forward to helping you get life changing results that can be achieved through prescriptive exercise. 
Christopher Kocsis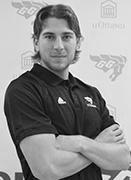 Christopher Kocsis is currently in his fourth year at the University of Ottawa studying Human Kinetics. In the summer of 2015, Chris acquired his Personal Training Certification. Communication in both French and English makes him an asset to our team of trainers. Chris has always been heavily involved in sport, having competed at high levels of hockey, golf and baseball. Devoting many hours of his youth and current life to the community, specifically developing young goaltenders, Chris is always improving as a coach learning from veteran peers as well as keeping up with the latest training methods and techniques. His passion for sport and athletic ability gave him an interest in movement and development of various skills like coordination and balance in and out of sport. Chris's extensive experience makes him a great fit to help develop athletes from various age groups, as well as help adults continue to engage in leading healthy and active lives. Chris takes a great deal of pride in the ability to help others achieve their goals both physical and mentally.  Known to be genuine and compassionate possessing strong problem solving skills, Chris will assist you in reaching your fitness goals.
Hélène Lefort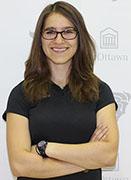 Hélène is fully bilingual, and has recently completed a Masters in Occupational Therapy at the University of Ottawa, where she has also completed a B. Sc. in Human Kinetics. She has been a Certified Personal Trainer (CSEP-CPT) since 2010 and has a compelling passion for health and fitness. Hélène has values in work-life-balance and leads a very active lifestyle integrated with a healthy diet. She participates in many outdoor activities and organized sports, combined effectively with weight training and long distance running. She has a National Coaching Certification in both Track and Multisport, and has coached organized group running and weight training programs for the University of Ottawa. Hélène has extensive knowledge in sport injuries, mental health and rehabilitation, as well as nutrition and stretching/yoga. Having worked with a variety of clientele, Hélène is highly qualified to help you attain your fitness goals and to design the right program fit for you.
Kevin Massicotte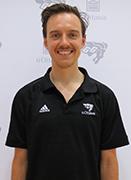 Kevin Massicotte is a bilingual University of Ottawa graduate with an Honours BSc. in Human Kinetics as well as a CSEP Certified Exercise Physiologist. He has a passion for physical wellness which stems from his involvement in many sports, such as volleyball, skiing and cycling. He is currently instructing the Desk Jockey outdoor group fitness class and is competent in both individual and group settings. He enthusiastically shares his knowledge with his clients, and finds great satisfaction when they are making gains towards their goals! Kevin's favorite sport is road cycling, he is a former National Champion and races at the elite level internationally with both Team Ontario and Team Canada. Kevin enjoys working alongside clients with a multitude of goals, but his specialty is strength and aerobic training for endurance athletes.
Claudine Nafaa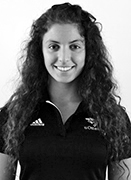 Claudine Nafaa studies Human Kinetics at the University of Ottawa and hopes to pursue a degree in medicine and neuroscience. She was a competitive gymnast for more than ten years and with her NCCP certification, she had the chance to train athletes in this discipline. This is where she found her passion for sharing her knowledge in French as well as in English, and even in Arabic! Always looking for new challenges, she recently enter the world of natural fitness with the UFE (Ultimate Fitness Events), where she finished first in Fitness Routine in May 2014. Claudine is a certified personal trainer (Can-Fit Pro) and likes to work with a variety of clientele. However, she specializes in strength training due to her experience in this area. She likes to help her clientele achieve their goals the best way possible. Nothing makes her prouder than to see their progress!
Bianca Paiement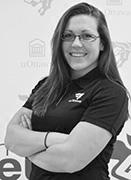 Bianca Paiement is currently finishing her Bachelors of Science with specialization in Human Kinetics at the University of Ottawa. She is fully bilingual and has completed her Personal Trainer Certificate from the Canadian Society of Exercise Physiologist in early 2015. Bianca has a passion for sport and training, with the goal of creating fun and exciting fitness experiences for her clients. She has a history of figure skating and hockey, and is currently pursuing rugby at the interuniversity level. As a member of the Gee-Gees women's rugby team Bianca attended CIS nationals after winning the RSEQ league. She also has a 10 year history of coaching multiple sports, participants ranging from toddlers to adults. From her past, she has developed a very functional training philosophy, which can be used to focus on sport performance just as much as daily health and fitness. She is an outgoing trainer who will think out of the box to help her clients achieve their goals.
Madeleine Plesko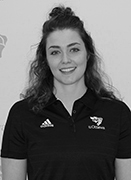 Madeleine Plesko is bilingual and is working to obtain her Masters in Physiotherapy at the University of Ottawa. Having obtained her undergraduate degree in kinesiology and working within Sports services for many years, she has a wide scope of practice. She has been a CSEP-CPT since 2013 and has had two years working as a full time trainer. Through her competitive rowing career both at a national and international level, her experience with high performance athletics helps her to push her clients to reach their highest potential. She has worked with a large population ranging from competitive endurance athletes to the geriatric population with chronic conditions. Madeleine's goal is to help each client find functional movement patterns and strength. Madeleine continues to advance her knowledge through her specialized schooling and continuation of her NCCP coaching levels.
Jonathan Rankin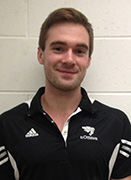 Jonathan Rankin recently graduated with a BSc. Human Kinetics degree at the University of Ottawa, and is now starting is MSc. Human Kinetics. His research interests lie in maternal health and exercise. Due to his passion for fitness, he has pursued a certification as a Personal Training Specialist through Canadian Association of Fitness Professionals. Jonathan has been training in a gym setting since high school and loves to learn and apply as much about Fitness and Exercise Science as possible. Most of Jonathan's experience has been introducing new clients to the fitness centre and he loves the challenge of teaching beginners to train properly. He spends most of his time at the Lees campus working on his thesis, assisting in various research projects, training, and planning social events for his graduate studies class. Jonathan is very patient, easygoing, and will not hesitate to put in the extra time and effort to help his clients achieve their training goals. 
Tyson Rusznak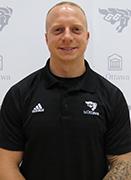 Tyson Rusznak is a certified CanFit Pro personal Trainer (CanFit Pro PTS certification). Tyson is a recent graduate from the University of Ottawa completing his undergrad with an honors and specialization in Geography. During his tenure at the University of Ottawa, Tyson played on the varsity football team. Growing up, he participated in other sports such as baseball, basketball, golf, volleyball, and track and field. Due to his athletic background, he brings a great deal of expertise and knowledge from sport specific training. His main interest is in training athletes but his extensive training background translates well to all client types with various fitness goals in mind. Whether the goal is weight loss, weight gain, improving strength, or increasing cardiovascular endurance, Tyson can help you achieve your goal. Fitness has always been a passion of his and he brings this passion for fitness to his clients. Due to Tyson's devotion towards fitness, he is constantly reading fitness articles and keeping up to date with current training methods and techniques, which he incorporates into his programs for clients and his own training.
Kristy Scarfone
Kristy is in her fourth year at the University of Ottawa, working towards her Honours Bachelor's degree in Biopharmaceutical Sciences with Specialization in Medicinal Chemistry. Her personal athletic history begins at the recreational level as a child in soccer, basketball and volleyball. She continued to play volleyball at a competitive level throughout her high school career and was a competitive dancer for 12 years. Kristy's workout routines expanded into the field of strength training for body composition, mobility, strength and stability. She is passionate in her pursuit to help others, and as such became certified with Can Fit Pro as a Personal Training Specialist.  She is interested in total body wellbeing, encompassing both the mind and body as well as nutritional habits. Kristy is eager to help you commit to a healthier lifestyle and to help you achieve your fitness goals - whatever they may be! 
Claudia Séguin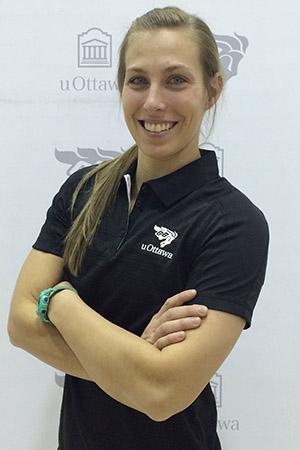 Growing up Claudia developed a taste and dedication to maintain an active and healthy lifestyle. She has completed her undergraduate degree in Human Kinetics and is now pursuing a degree in the Faculty of Education in order to begin a career as a teacher.  During her undergrad, Claudia was a member of the University of Ottawa Gee-Gees Women's Volleyball Team. Today, she is an accomplished athlete concentrating on beach volleyball. After completing her Varsity career, she decided to pursue her dream, passion and represented Canada at the international level for 3 years. She is a very determined, organized, and patient individual.  She enjoys the opportunity to take on new and interesting challenges as well as working in a team environment. Her passion for sports, and the practice of a healthy holistic active lifestyle is the main reason why she enjoys Personal Training. She loves working with people to help them achieve their goals. It is an experience that she believes is rewarding and enriching.
Adrien Stotesbury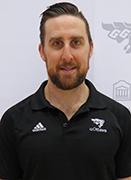 Adrien is a graduate of the University of Ottawa's Human Kinetics program as well as having his Bachelors of Education. Certified through the NSCA, Adrien is a Certified Strength and Conditioning Specialist. Adrien has been personal training for over 4 years through the University of Ottawa's Sports Services, and has worked as a strength coach for the Ottawa Mavericks Volleyball Club for 3 years. Adrien's interests in training involve working with athletes and performance based population (ex: policing, fire-fighting, paramedics, etc.) but is comfortable and confident working with a variety of clients ranging from Weight Loss to Rehabilitation. When not training clients or himself, Adrien can be found reading and keeping up to date with techniques and training protocols throughout the fitness and training industry. Adrien is a former record holder in Powerlifting having held a national squat record with a squat of 490lbs.
Taylor Timmermans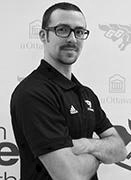 Taylor is currently pursuing a bachelor's of Commerce and is a certified personal trainer. With his passion for fitness, Taylor has made it his goal to make the gym a more welcoming environment for all. A competitive swimmer at a young age, Taylor has again experienced both sides of the training world: from swimmer to swim instructor, from gym-goer to Certified Personal Trainer. From his own training experiences, Taylor is comfortable working with a variety of clients. From beginner clients learning the basics to intermediate clients improving their strength, size, or aerobic capacity, Taylor is confident that he can help clients achieve their goals. Constantly researching better training methods, he hopes to use his experiences at the University of Ottawa to further his career in the fitness world.
Anneke Winegarden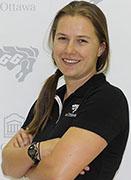 Anneke Winegarden is a bilingual University of Ottawa graduate with an Honours BSc. in Human Kinetics as well as a CSEP Certified Personal Trainer and is currently pursuing her Certified Exercise Physiologist certification. Her passion for fitness and performance comes from a back ground in sport, training primarily for running and nordic skiing, and a new passion for triathlon. She specializes in motivation, strength training and program design for endurance athletes, but enjoys working with anyone who would like to start training and remain healthy, injury free, and find the most effective way to reach their training goals. Whether you are signing up for your first 5km race, or looking for a personal best in any sport, Anneke's coaching will definitely help you achieve your goals. Certifications include NCCP Run Jump Throw Coach & NCCP Nordic Ski Coach.