Who are we?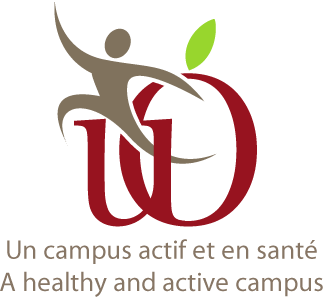 We are a source of motivation. A Healthy and Active Campus is an employee initiative to support efforts by Human Resources, Sports Services and Food Services to organize and promote on-campus activities that allow employees to stay healthy and active. It's a network of more than fifty "champions" in the faculties and services.
Check out the Healthy and Active Campus official website for all the latest news and events!
Become a fan of A healthy and active campus on Facebook
Our Objectives
To increase the number of employees who take advantage of on-campus facilities and services to stay healthy and active
To be an on-campus voice promoting physical and mental health
To serve as a network supporting Human Resources, Sports Services and Food Services initiatives
To promote on-campus activities that contribute to employee well-being
To organize activities to get employees moving
To publicize employee profiles in the Gazette
What Sports Services offers
Only a few steps away from the office, a variety of programs and activities are offered to help you get active and stay fit!
New employees: See the brochure for new employees to learn everything Sports Services has to offer!
Gym Memberships
Get your membership and work out at your convenience at the Montpetit Fitness Centre or at the Minto Sports Complex Health and Lifestyle Centre.
Employee Only Fitness Programs
Looking for a way to squeeze in some much needed exercise in your overly packed day? Why not check out one of our employee only classes?! These classes are tailored to fit your lunch hour but are still jam packed to provide you with the ultimate work-out experience.
Employee Only Group Fitness Classes
From Monday to Friday, Group Fitness classes are offered for Employees Only in Montpetit Dance Studio from 12:10 to 12:50. Visit the Campus Rec Calendar to see the schedule.
NOTE: the EMPLOYEE ONLY Group fitness classes are not included as part of the Basic/Aquatic Membership. Employees who wish to take part in these activities must purchase an All-inclusive membership or a Group Fitness punch card in order to gain access to these classes. 
University of Ottawa Employee Information
All REGULAR employees of the University of Ottawa (A/E on employee card) have a Sports Services Basic/Aquatic Membership as part of their social benefits which includes access to:

Montpetit Hall facilities except for the fitness centre;
Montpetit Hall: Lane Swim, Leisure Swim, Aquafitness at the Aquatic Centre;
Recreational/Drop-in activities in the MNT gymnasiums, on the Matt Anthony field and at the skating rink during scheduled times;
Preferred member pricing on Sports Services campus rec activities (instructional, outdoor and intramural).

New employees at the University of Ottawa have access to a 50% discount on their first Annual Fitness membership (All-inclusive or MNT fitness) at Sports Services;
All full-time employees (contractual or Regular) are eligible to register for Employee only Fitness and Wellness programming;
All full-time employees (contractual or Regular) have access to various promotions offered by Sports Services throughout the year;
For me information regarding various membership options, please visit the Employee Memberships section.