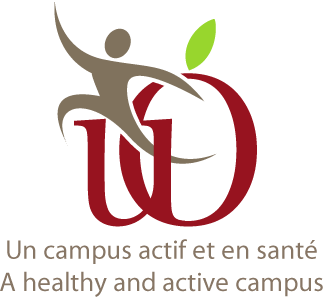 A Healthy and Active Campus is an employee initiative to support efforts by Human Resources, Sports Services and Food Services to organize and promote on-campus activities that allow employees to stay healthy and active.
It's a network of more than fifty "champions" across campus. 
Check out the Healthy and Active Campus FACEBOOK PAGE for all the latest news and events!
Become a fan of A healthy and active campus on Facebook
Objectives
Organize and promote on-campus activities that contribute to employee well-being
Act as the on-campus voice promoting physical and mental health
Increase the number of employees who take advantage of on-campus facilities and services to stay healthy and active
Network of champions
Champions take part in monthly committee meetings and/or promote the initiatives and activities within their units.  To become a champion or for more information on how to get involved, contact Gaby St-Pierre.
Get active!
Gym membership
Get your gym membership and work out at your convenience at the Montpetit Fitness Centre or at the Minto Sports Complex Health and Lifestyle Centre.
Employee only classes
Looking for a way to squeeze in some much needed exercise in your overly packed day? Join an employees only classes such as Yoga for employees or Desk Jockey training camp. Lunchtime group fitness class are also available as part of the All-inclusive membership. 
Employee hours
Take advantage of the employee hours in the Montpetit Fitness Centre between noon and 1pm on Monday, Wednesday and Friday during the academic year.
Eat well
Food Services offer a variety of food options for students and employees to make healthy choices when eating on campus. Take a look at what is being served at the 24/7 Dining Hall. If you feel inspired, venture over to "My Pantry' to create a unique and healthy meal.
Keep a healthy mind
The University of Ottawa is committed to the well-being of its students and staff. As such, the Mental Health and Wellness website acts as a central location for information and resources at our University and in the surrounding community.